Walmart Canada: Disney Sofia Royal Castle was $60 now $20! *HOT* (EXPIRED)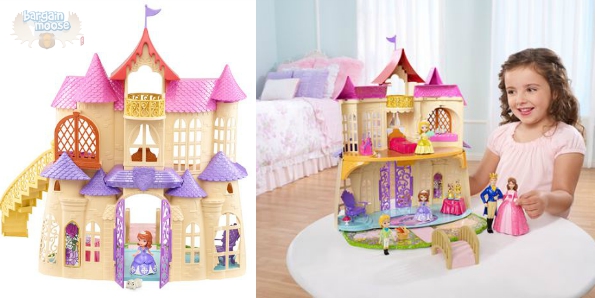 If your little girl wants a castle for her very own, then buy this clearance-priced Disney Sofia Royal Castle! This gorgeous castle is designed for Sofia dolls and other dolls of the same general height. Originally $60, this Walmart exclusive royal castle is now on sale for $20. Receive free shipping to your local Canada Post location.
You need to order this castle online because the in-store clearance price is double the online price! This castle will be just what your little princess needs to complete her Sofia collection. If your child does not have a Sophia doll, that is not a problem because the castle comes with one. However, all other figures must be purchased separately.
I need to make a few clarifications at this point. This is not the 'talking' castle and this castle only comes with one doll as opposed to the other - quite similar looking - Disney Sofia the First Magical Talking Castle Play Set. There is also a substantial price difference between the two of anywhere from $40 to $60. This Royal Castle just gives you the 3" Sophia figure and the castle with some accessories.
As I mentioned, the set costs $40 right now in store and almost all my local Walmart stores are sold out. I found similar sets online, but they cost upwards of $60 for anything even close to this castle. As this is a Walmart Exclusive, it is not possible to price compare directly with the same item at another retailer.
The reviews on this doll house are a bit mixed. One reviewer said:
I bought this as an addition to the Sofia family figurines that I bought previously for my daughter. I looked everywhere for the castle and finally found it in the store. After it was assembled I was a little disappointed that it didn't have the feature for the dolls to talk when placed on a special platform. My daughter plays with the castle daily. It does include many small pieces (cups, places...) that can get lost easily with a toddler. The castle is big and takes up a lot of room and it doesn't fold nicely for storage. Overall it is very overpriced for what is offered.
At $60, I can understand why she would think that the set is overpriced. However, at $20 I think this is a fantastic little set that your girls will really love. Stock is already limited online, thus I recommend placing your order as soon as possible.
(Expiry: unknown)