Walmart Canada: Disney Minnie Mouse Quad Just $45 (Was $68)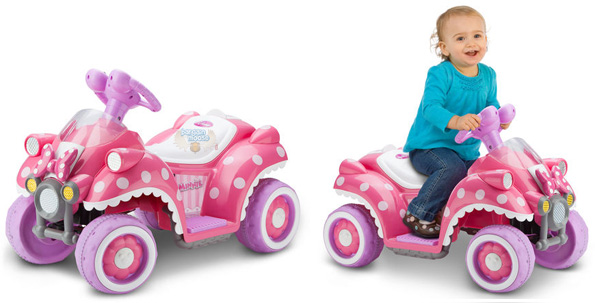 Walmart Canada has an amazing deal on the Disney Minnie Mouse Quad: originally priced at $68, it's now on sale for just $45!
Did you know that quads for kids can actually be really quite pricey? Well all kids' toys are expensive, so I guess that shouldn't come as much of a surprise, but the thing that really made my mouth drop is the fact that Walmart has plenty of other motorized riding toys at prices you wouldn't believe. Take for instance the Fisher-Price Power Wheels Cadillac Escalade EXT: its price is a whopping $479.93! With that same amount, you could easily get a pretty good tablet or even the new iPhone 5s!
Granted, the Escalade one can go up to speeds of 8 km/h and the Minnie Mouse one has a speed maximum of 2.4 km/h but it really makes no difference at that price, especially since I doubt any parent would want their little princess riding at crazy speeds! :P
This is exactly why even though my bun is still cooking in the oven, I'm actually extremely tempted to get the Disney Minnie Mouse quad now and to stash it away until she's old enough to ride it. Notwithstanding the amazing price, the comments are all pretty convincing as well with a resounding 4.5 stars out of 5. In fact, here's what one reviewer commented on it:
I bought 2 of these for my granddaughters and they are wonderful. Just the right size for little ones to handle. Very good value and cute as anything too!
Shipping is also absolutely free!
(Expiry: Unknown)