Walmart.ca: My Little Pony Pop Deluxe Style Kits Were $18 | Now $10 (EXPIRED)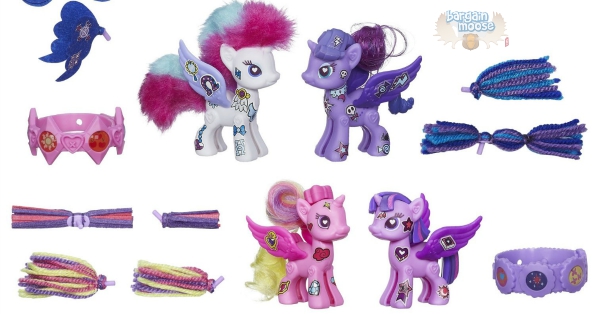 My little pony is all the rage with little kids' these days. I just found a couple My Little Pony Pop Deluxe Style Kits on sale from $17.97 down to $10 each. Choose from the Princess Twilight Sparkle and Princess Cadance Deluxe Style Kit and the Rarity and Princess Luna Deluxe Style Kit.
The kit includes two two pony bodies (four pieces), hair, tails, wings, bracelet, and stickers. I love these little pony creative kits where your child can express themselves and build their own pony. Your child's ponies are completely customizable and you can mix and match the two kits for even more options.
I price compared these kits with Amazon Canada as they are one of the few online retailers that carries these sets. I found Twilight Sparkle and princess Cadance for $19.80. Rarity and Princess Luna retails for $24 at Amazon Canada.
You will simply not find these pony kits cheaper anywhere else. Even though Walmart no longer offers free shipping to your home on any order, they still do offer free shipping to your local Canada Post location on everything. For me, it is the same thing as the post man doesn't bother to knock to see if I am home. I end up picking up all my packages at my local Canada post anyway.
Do note: the 'name' on the Rarity and Princess Luna kit is wrong - someone just copied and pasted over the name from the other kit. You will see in smaller print (under the title) that it is indeed the Rarity and Princess Luna Kit. It is also written on the box.
I also wanted to mention this My Little Pony Pop Fluttershy Design-A-Pony Kit that comes with one pony body (two pieces), marker, two hairstyles, two tails, pair of wings, and stickers. If this kit is the same size as the deluxe kits, then you could also mix and match this one with the rest. Originally $17.98, the kit is on sale for $10.
Pick these up while they are still in stock and ship them to your local Canada Post for free.
(Expiry: unknown)