Walmart: Magnifying Jewellery Station Kit Was $15 | Now $5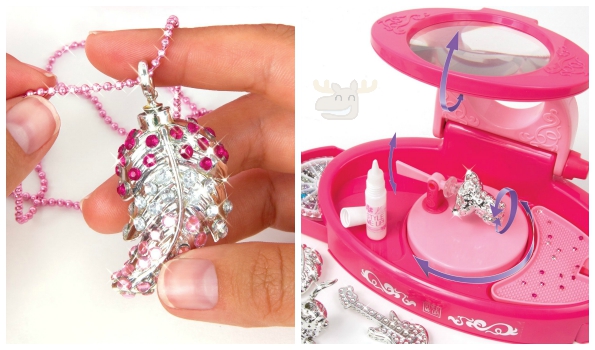 Walmart Canada has a nice deal on the Style Me Up Magnifying Jewellery Station Kit. Originally $15, the kit is now on sale for just $5. You can easily get it shipped for free to your local Canada Post location.
This pretty little kit includes the magnifying working station, seven ready-to-decorate pendants, a large variety of rhinestones, a variety of different ribbons and chains, as well as a rhinestone applicator. This is everything your child needs to design and create their very own jewellery.
I price compared the kit with Amazon Canada where it currently retails for $13.49. From the original price at Amazon - $44.79 - it appears that the 'original price' of $15 at Walmart Canada is already a sale price. Staples Canada sold the same kit for $39.96, but it is now out of stock.
Most of the reviews are quite positive for this set. One reviewer said:
wonderful product, kept the girls busy for hours. They had a blast!
Another reviewer bought this kit as a Christmas gift:
I shopped online for this jewellery station kit for my niece. The price and the product was fantastic. I received it quickly and just in time for Christmas. Well done and worth shopping.
The only complains are about the glue. Some customers have received the kit with dried up glue instead of fresh. Glue is easy to buy separately if need be; I think this kit is well worth the price just because of all the rhinestones, pendants, ribbons, and chains.
This would be a lovely gift for your child 'just because'. It is entertaining, and will keep your girl(s) busy for hours. This could actually be a really fun gift for a girls' sleepover. Some parents get their children loot bags. For $5 per set, this would make an amazing gift to each of the girls at a sleep over. They could make their own jewellery during the sleep over and keep it all too. I think this would be a lot of fun.
For $5 with free shipping to your local Canada post location, this is a great purchase. If you want free shipping directly to your home, then your order must be $50 minimum.
(Expiry: Unknown)