Vtech Go! Go! Toys on Sale From $5.57 @ Toys R Us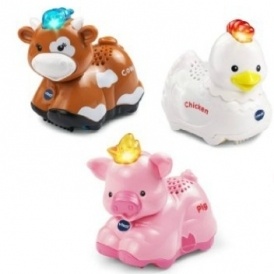 I just bought a Vtech Go! Go! set as a third birthday present for a friend's daughter - and my gosh she had a blast with that thing! If you want to win a 'Mother of the Year Award', then perhaps you should grab some of these for your tot too. Right now you can shop at Toys R Us Canada and get Vtech Go! Go! Characters and Sets from $5.57 with up to 50% off.
There are oodles of cute little characters and sets to choose from, so definitely have a browse of both categories and see what you can find for your little ones. A good starter set would be the Vtech Go! Go! Smart Friends Spin-Around Sounds Carnival which is on sale for $26.98 down from $39.99. Actually - the exact set I just purchased is the Go! Go! Smart Animals Gallop & Go Stables which is on sale for $20.97 down from $29.99.
My son would love this Go! Go! Smart Wheels Forklift which is $5.57 down from $7.99. And this Go! Go! Smart Animals Sheep would go great with the farm gift I just gave. It is also $5.57.
ToysRUs.ca offers free shipping on orders over $49, or free in-store pickup today on most of these items.