Vintage Kitchenettes Now Just $70 @ Bed, Bath & Beyond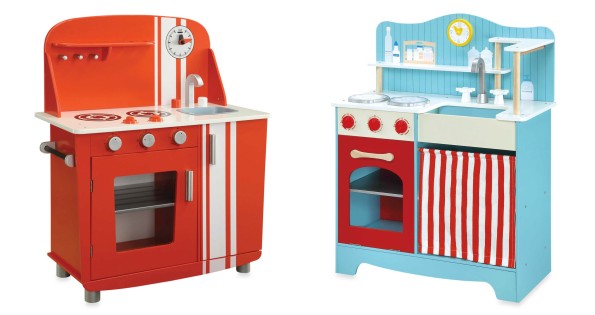 These two adorable vintage styled kitchenettes are currently on sale at Bed Bath and Beyond, with $40 off! Originally $109.99, each kitchen is now only $69.99! The kitchenettes come in two different styles; Vintage Red or Country Kitchen, and I honestly can't decide which one I like more.
Both of these great styles include everything you'd find in a little kitchen, from the sink, stove, oven, microwave, and a decorative clock. With all of these features, this cute set sells itself here. Plus, with the option of a nice bright red kitchen, or a classic southern styled one, you're bound to find at least one of the two to be perfect for your little one. These kitchenettes are comparable to the Kidkraft models, but are way less expensive.
Playing pretend was one of my favorite things growing up. I loved to have a little pretend family who would have book clubs, school, and work, and they would all come home at the end of the day and I used to "prepare" them a great meal. If you ask my husband, he won't disagree when I say that it may not have helped much when it comes to my cooking, but it did turn me into an excellent story-teller.
Shipping is based on location, so take a look at that before ordering. It is free if you spend more than $100.
(Expiry: Unknown)