(Up To 78% Off) Melissa & Doug Toys Now $7 @ Well.ca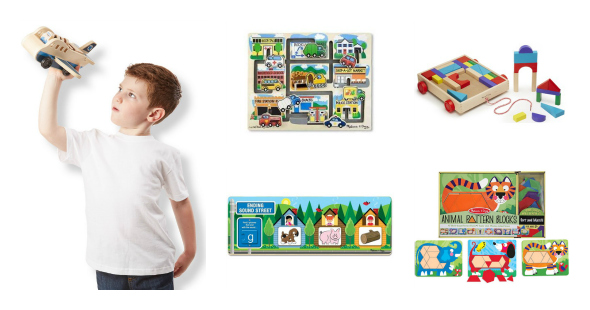 I've mentioned it here before but I'll say it again: I love Well.ca. They have such wonderful sales and I love that I can grab some everyday items, top up my cart, and get free shipping at just $29. I find a lot of places that sell smaller items (makeup, toiletries, etc.) have a much higher free shipping threshold. Just one of the things that makes them fabulous! I was taking a look through their Clearance section and came across a few toys by Melissa and Doug that are marked down to just $7!
Melissa and Doug products are designed to be innovative and offer value and quality. They make fantastic stuff for imaginative and educational play. Well.ca has five Melissa and Doug toys on Clearance for $7 -- providing a minimum savings of 70% but as much as 78%:
This set consists of 36 brightly-painted wooden blocks that fit neatly in a sturdy wooden pull-along cart. The blocks are meant to inspire creative building and stacking.
Picture Window Sound Sorting Set
This wooden play set is designed to help kids master letter sounds and build a foundation for literacy. It contains 3 wooden boards: one for beginning sounds, one for ending sounds and one for middle sounds; 40 rectangular picture tiles and 31 puzzle-shaped letter-sounds tiles. Each tile has an illustration and and information to help kids discover how to say each sound and which words contain those sounds.
This Pattern Blocks Set contains 47 geometric shapes, in a rainbow of bright colours. Kids match the shapes on the five double-sided wooden boards then choose pattern blocks to fill the spaces. The shapes can be used apart from the included boards to teach and encourage counting, sorting and original design. Great for learning shapes and colours; fine motor and language skills.
This cute play set includes 4 play figures with colour-coordinated suitcases for imaginative play.
This innovative wooden puzzle includes 9 vehicle pieces that slide around a colourful town scene on tracks. The sliding pieces move freely around the puzzle but can't be removed or lost! Helps to encourage hand-eye coordination and fine motor skills.
As I said, the free shipping threshold at Well.ca is just $29 so pick up all five toys for your little one, or grab one or two and any other household items you may need! Have you had an experience with a Melissa and Doug product before, Moosers? What do you think?
(Expires: Unknown)