True Cuddles: Silk Baby Gear 40% Off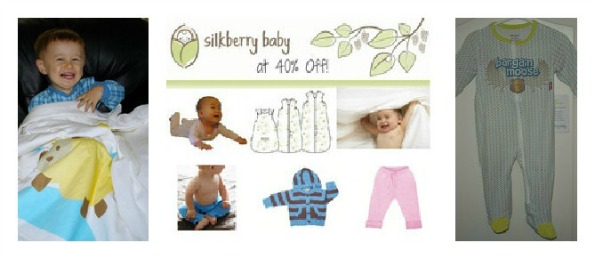 This week's Cuddle of the Week at True Cuddles is a good one.   You can save 40% off all Silkberry Baby Gear.
Click here to shop these deals @ True Cuddles
The last time they had this deal on they only had 3 items to choose from.  This time, they have 4 items (2 of them being different from last time).
Toddler Comforter with Removable Silk Filling – This is a low maintenance comforter that can be used year round and is easy to wash.  The outside is 100% satin cotton and it is filled with 100% mulberry silk floss. It comes in either pink or blue and the price was $98.99 but is now just $59.39.
Bear Print Sleeping Sack – This is a very soft sleeping sack that is made from certified organic bamboo.  It comes in ages 6 months all the way up to 36 months old.  The shell fabric is 100% organic bamboo and the filling is 100% polyester.  The sleep sack price was $69.99 and is now just $41.99.
Sweater Pant- It comes in sizes nb-3m, 3-6m, 6-12m.  It has an elastic waistband with drawstring for better fitting, and is anti-static and sensitive-skin friendly.  The Sweater Pant price was $28.99 and is now just $17.38.
Foot Sleeper- It is made from 97% rayon from bamboo 3% spandex.  Choose from 2 different designs: Hazy Lilac (features a lilac purple pattern) & Marina (features a marina blue pattern).  The footed sleeper price was $28.99 and is now just $17.38.
Sweater Knitted Striped Hoodie- It features front button opening for easy wearing, is anti-static and sensitive-skin friendly and it is very soft and breathable. It was priced at $34.99 and is now just $20.99.

I love that fact that all of these products are eco-friendly.  The cost of shipping starts at just $3.95 which is very reasonable.
(Expiry: 9th December 2012)