Toys R Us: Mr. Potato Head Darth Tater Was $15 | Now $9 (FS @ $25)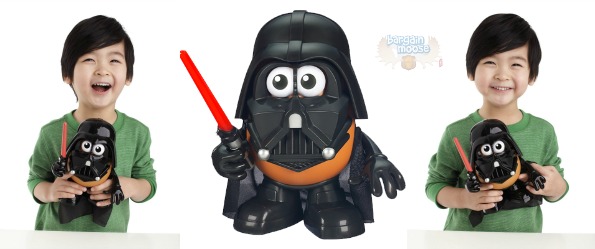 I could not resist blogging this deal because it is Mr. Potato head as Darth Vader from Star Wars - how cool is that?!? Pick up Playskool's Mr. Potato Head Star Wars: Darth Tater toy on sale from $14.98 down to $8.98.
This toy is all kinds of awesomeness for adult collectors and children. Darth Tater comes completely with the famous mask, cape, body armour (pants and Darth Vader style shoes), and a red lightsaber as well. The toy is the perfect mash-up of Mr. Potato head as it comes with interchangeable parts and of Darth Vader style. The second I saw this toy, all I could think of was "May the starch be with you."
Now, price comparing thus spud was hard as hardly any places in Canada carry Darth Tater. The only place I found our dear dark spud overlord was on Amazon.ca where it is retailing for $28.50 with free shipping.
I checked out Amazon.com for a rating and reviews. The toy currently averages 4.8/5 stars with 170 reviews. I think that may be the highest overall rating on a toy I have seen lately at Amazon. This one reviewer on Amazon.com had too much fun writing this:
In a distinct galaxy of spuds just below the crust of our Earth he lay dormant since 1977 patiently awaiting his time. Lucas hard as you would, he was not to be seen or found. Yet. The world now welcomes this newest, freshest reincarnation of the famous vegetable man, still relevant after all these years, who emerging from the dark sighed, "Luke, I am your fodder."
For shipping, you have two options. I highly recommend choosing the 'ship to store' option because it is free. Whether you can choose this option or not depends upon your local store having the inventory. Other than that, shipping makes this toy not a great deal, so I suggest reaching that $25 minimum for free shipping.
To reach the $25 minimum for free shipping, add on cool toys like this Fisher-Price - Laugh & Learn - Apptivity Storybook Reader - English Edition that was $27.99 and is now $9.89. This National Geographic - CRITTER CATCHER BUG VAC was also $24.99 and is now on sale for $13.98. There are plenty of deals in the toy clearance section that you can purchase to top up your cart. I hope that most of you are eligible for the free shipping to store option.
(Expiry: Unknown)