Toys R Us: Monster High Picnic Casket Doll 2 Pack - Only $19.98 (FS @ 25)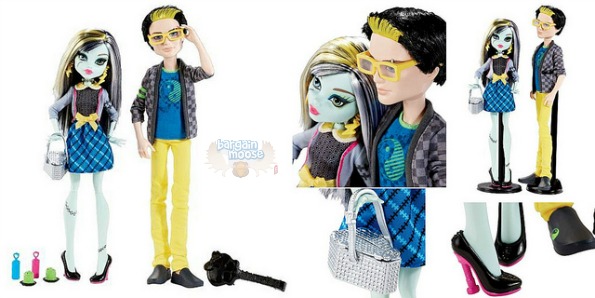 I keep a watchful eye on all Monster High Doll sales online. This Monster High - Picnic Casket Doll 2 Pack - Frankie Stein and Jackson Jekyll was just discounted from $42.99 down to $19.98 at Toys R Us, the cheapest price you will find anywhere! The two-doll set qualifies for free shipping on orders of $25 or more.
While this is not one of the doll sets, I was planning to add to my collection, it is a rare opportunity to pick up a couple Monster high dolls for so cheap. As you receive two dolls in this set, each doll works out to only $9.99 each! That is an incredible price for these beautiful dolls. Frankie Stein and Jackson Jekyll come with a silver picnic casket as well as water bottles and cootie cakes they can nibble upon while picnicking. This is an adorable set with Frankie and Jackson wearing colour-coordinating outfits.
The reviews are rather positive with most parents excited to see a male Monster High Doll:
My daughter loves these dolls, she was very excited to have a boy Monster High doll. They are very well made and provide her with hours of play time.
I price compared this set with local competitors, but I could not find it many places. Amazon Canada is selling the set for $48.99 with free shipping.
Now, the set qualifies for free shipping but is a bit under the minimum. I highly recommend topping up your cart with the Monster High - Casta Fierce Doll that is on sale from $19.98 down to $12.98! She is a beauty and comes with a broom/ microphone stand and the usual Monster high accessories. I love her outfit - it is really out of this world. it is rare to find Monster high dolls under the $15 mark, so being able to purchase three - at the same time - for so cheap is pretty awesome.
If you wish to learn more about the Picnic Casket Set, here is a YouTube video of the unwrapping of one and some commentary as well. I like to watch these videos before I buy a new doll so I see the dolls more accurately.
I just love this deal, and only wish I could find this sort of price on a set that was on my wish list.
(Expiry: Unknown)