Toys R Us Canada: WiiU Bundle Set Only $199.97 For One Hour Only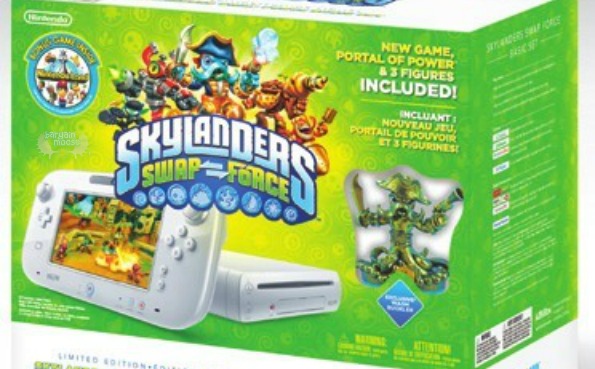 From 9-10 pm tomorrow night (March 7th), you can go into any Toys R Us and purchase a Wii U Skylanders Swap Force basic set for only $199.97, which is $100 off from the regular price.
The flyer doesn't say whether this sale will also be available online. This is part of their big Moonlight Madness sale, which has a number of good deals on at varying times. The details for the online sale is not yet posted, but when they are, let me know and I'll tell everyone about them!
I have a Wii U and it is amazing. It is almost too amazing. My kids ask to play it constantly and it gets annoying, but that's a whole different story. Our favourite game is called Highway Rollers, which is on the Wii Party game disc. Four of us can play and do minigames and challenges to get to the end. It is quite the fun family game to play. My kids have Skylanders Swap Force too, which is the game that comes with this system, and it is all the rage at school. I also noticed that the game NintendoLand comes with this system as well, so this really is a sweet deal! The cheapest I've ever seen it on sale was $249.
If you can order online, this items will ship free as it is over $99.
(Expiry: 7th March 2014)