Toys R Us Canada: Moonlight Madness Sale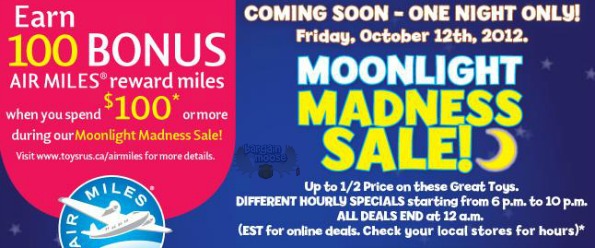 Toys R Us Canada is having a 1 night Moonlight Madness Sale.  It will be happening tonight only starting at 6pm local time.  These deals will be in stores and online, and will be in limited quantities. There will be different deals on the hour all the way up until midnight.
Here is a few of the great deals you will find:
Each of these links will take you to a list of toys, games and more that will be on sale for that particular period of time.   Some of the deals will be 40% or 50% off the price listed, some of the deals will be a dollar amount off.  All of the deals will be a lesser price than shown as of now.
The deals will change almost every hour until the supplies are out so it might be best to shop online where there might be a bigger variety of items.
As an added bonus to these deals, if you have an Airmiles card, you will get 100 bonus Airmiles for $100 or more spent on your purchases.
I like the fact that you can look ahead and see what will be on sale.  Since most of the items listed will be 50% off the regular prices, this is a great time to stock up on gifts.
(Expiry: 12th October Midnight)