Toys R Us Canada Big Bike Sale: 25% Off a Huge Collection of Bikes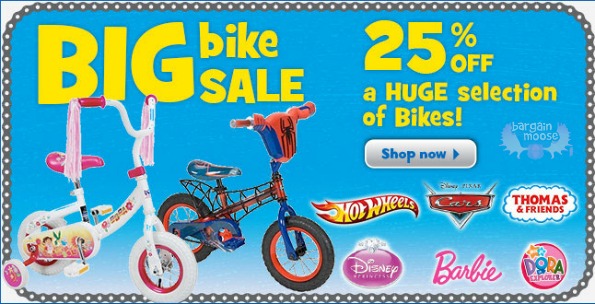 Get 25% off a huge selection of bikes, in-store and online at Toys R Us Canada right now.
Bike riding time is almost here, if we could just get rid of all this rain! None of my kids know how to ride a bike yet and my husband has actually been carting around all three boys (over 100lbs) in a trailer on the back of his bike. This year, I want him to get rid of the trailer and we are teaching all of the boys (aged two to seven) how to ride. But first, we need to buy them some bikes. This sale looks fantastic and is perfect timing for my family.
I figure if the bike is cool, they might be more likely to ride it. They love the Avengers, so this bike might be a good one at only $89.97, regularly $119.99.
My oldest might grow out of the Avengers phase soon, so an even cooler bike might be this Batman Dark Night bike, for only $97.47, regularly $129.99.
Like I've said many, many times before, I don't have a girl, but in my dreams I'd buy her this 10" princess bike, now only $59.97, regularly $79.99.
And of course, safety comes first, so do not forget the helmets! My kids already have helmets, but over time they break down so it might be safer to get all new helmets. This Dora the Explorer combo pack with helmet and must-have bell is only $24.97, regularly $29.99.
Figuring out which bike or helmet fits your child best is easy. Simply measure their heads and their height and find a chart online that tells you what size goes with what.
Shipping is free on orders over $100.
(Expiry: 18th April 2013)