Toys R Us Canada: Assassin's Creed IV Black Flag Limited Edition Set PS3 And Xbox 360 Was $130 Now $60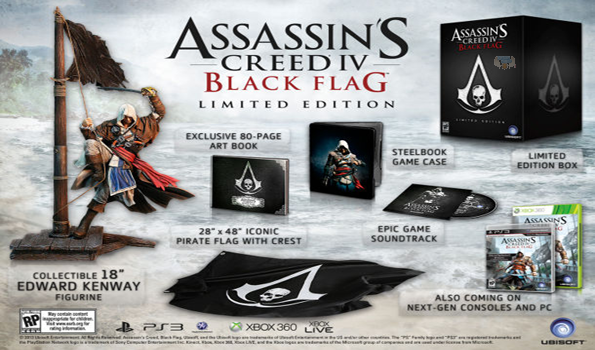 Good morning, my fellow deal hunters! If you're a fan of Ubisoft's Assassins Creed game series, you may find this deal particularly alluring! Toys R Us is currently having a clearance sale on the limited edition box version of Assassin's Creed IV for both the Sony PS3 and the Xbox 360. They normally retail for $129,99, but you can get it now for just $59.98! This order also qualifies for free shipping.
The limited edition Assassin's Creed IV: Black Flag box set is a great package for fans of this series. It comes with some interesting goodies, including an 18" Edward Kenway figurine, an 80 page art book, a pirate flag with crest, a steelbook case, and of course, the Assassin's Creed 4: Black Flag game.
This game has developed quite a following over the years. I still remember some of my friends raving about its unique gameplay back when the first game in the series was released for the PS3 and Xbox 360. I tried out the second Assassin's Creed at a friend's house, and thought it was pretty fun. Definitely a game that appeals to teenagers and young adults.
This limited edition version of Asassin's Creed IV: Black Flag for both the Xbox 360 and PS3 typically costs $129.99 at Best Buy, and it's $129.96 at WalMart. Listed below is a snippet of a review for Assassin's Creed IV: Black Flag from a satisfied Amazon customer:
So what makes this game amazing. Lets start off with the landscape. It's brilliant and beautiful...Really majestic. You don't understand the scope of this game until you start playing. The world is surrounded by several small villages and three large cities. The only way to travese this open terrain with a horse. Fortunately they are about as easy to find as a car in todays society.
This is a great set for collectors. Get them while supplies last! I hope you all enjoy your day, Bargainmoosers - happy hunting!
(Expiry: Unknown)