Toys R Us Canada: 50% Off Fisher-Price Little People Zoo Talkers Play Set - Now $20 (Expired)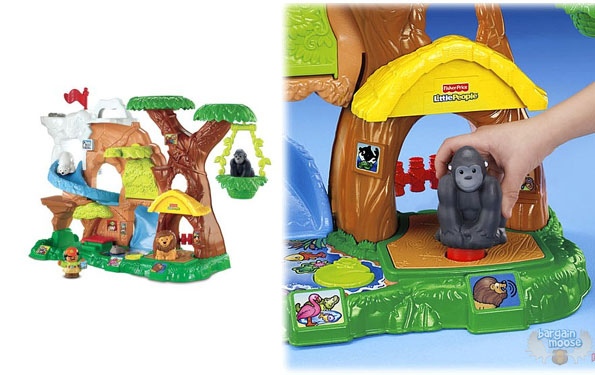 Are your kids bored? Then get them something new to play with. The Fisher-Price Little Zoo Talkers play set is on sale for just $19.97 at Toys R Us right now. It was originally priced at $39.99, thus putting it at a 50% discount. Plus, you can also use the Toys R Us coupon code: LPFIRSTBDAY to save an extra $5 off and get it for just $14.97.
Let me start off by mentioning that this Fisher Price Little People play set actually boasts 70 reviews with an overall rating of 4.1 stars out of 5. This factor alone would convince me to get this play set, with the 50% discount being the cherry on top of the cake! :PHere's what one reviewer had to say about it:
My daughter got this when she was about 15 months and she wasn't too into it but lately she's been playing with it multiple times a day. She loves to put all the animals in the zoo and then have someone ask her what animal to get and she will go get it. She's 20 months now and knows all her animals thanks to this toy! We LOVE Fisher Price Little People toys!
Featuring four habitats (grasslands, arctic, jungle and water), this cool play set is an interactive one as when animals are placed on the peg at the hut, the play set comes to life with that animal's name and sound. Keep in mind that the required 3 AA batteries aren't included.Even $20 may seem like a lot to pay for this play set but it's actually as high as $54.94 at Walmart and boasts even better reviews with a general vote of 4.4 stars out of 5 and 73 reviews in total.If your little one already has this play set or if you would prefer to get a different one altogether, then luckily, there are plenty more Fisher-Price ones to choose from and they are all on sale as well. Keep in mind that the code mentioned above may only be used once and is only applicable once per order, which means that even if you add more than one play set, then you will still only save $5. It's also only valid on orders over $15 of Little People products.Shipping is free on orders over $25.
(Expiry: 25th September 2014)