Toys R Us Canada: 40% Of All $24.99 Hasbro Board Games

Toys R Us Canada has a great deal on right now that is perfect for the cooler nights and weekends we will be having in the fall.  Save 40% on Hasbro board games that are $24.99 or more for a limited time only.
Basically, any Hasbro board game that is priced $24.99 or more will get discounted 40% off at the checkout. Almost all the the games in this section are $24.99, so the prices of them will all drop to just $14.97.
They have a pretty good variety with over 20 games available for this deal. This is the perfect sale for a family games night. They have classics like Monopoly, Risk, Operation, Life, Jenga and many more, along with some great new ones. The age range is from toddlers all the way up to adults, so there is something for everyone.
You do have the chance to save even more money if you buy a few different games. I did a screen shot for you below with my order.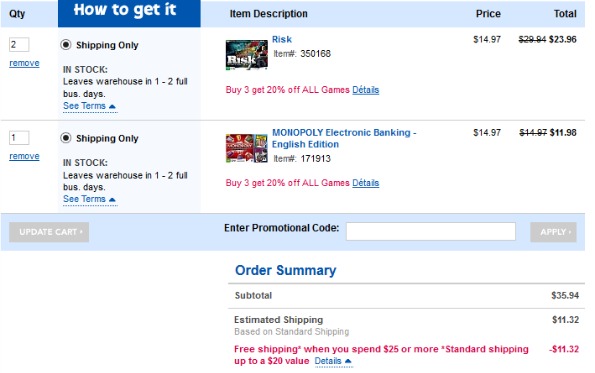 The games are already 40% off, but if you add three games to your cart, you will save an additional 20% on the them. They also have a deal on right now that will get you free shipping when you spend $25 or more on select items (which include all of these games). That means, you will save 40%, then an additional 20%, and get free shipping! My total for three games was just $35.94 when the regular price for all three should have been $86.17 with the cost of shipping. Those are some pretty incredible savings!
Like I mentioned above, for a limited time only, you can get free shipping on most orders of $25 or more.
(Expiry: Limited time offers)