Toys R Us Canada: $30 Off Summer Infant Pop 'n Play Ultimate Playard - Now $80 & FS!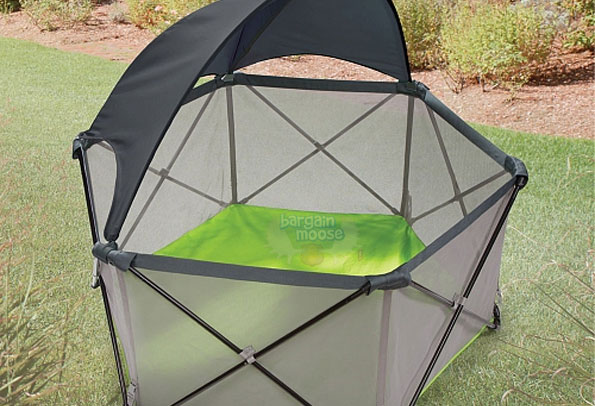 Toys R Us has a great deal right now on the Summer Infant Pop 'n Play Ultimate Playard. Originally priced at $109.99, it's now on sale for just $79.97. Shipping is also free.
My baby is nearly one year old and a couple of months ago, I got hera superyard to contain her in the living room. At the time, I deliberated between the North States Superyard XT gate, which is now on sale for $124.99 and the Summer Infant Pop 'n Play ultimate playard, which I'm featuring in this post.
The only reason I got the North States one is because with two cats, I was too scared that the water resistant floor would get torn up to shreds. Otherwise, I would have definitely gone with the Summer Infant playard as it's lightweight and can easily be transported around.
The one I got is great but it's very clunky and there is no way to easily transport it. The Summer Infant though is 35" tall and weighs a total of 12lbs, which is hardly anything for a superyard!
It's great for babies as young as 6 months and as old as 24 months and the best part is that it can be used either indoors or outdoors. I have to admit that I'm very tempted to get it to use outside in the backyard as it has a removable canopy that is advertised as blocking 98% of harmful UVA and UVB rays.
In fact, at Sears, this same play yard is currently on sale for $87.99.
Out of two reviews, there is a total of 5/5 stars. Here's one of these reviews:
We use the play yard when going to the beach....i have a 9 month old grandson that loves to put thing in his mouth and this keep the sand out (lol)....i also use it in the back yard for some vitamin D time. He just loves it...lots of room to crawl around
As I already mentioned, shipping is also free but keep in mind that if you add anything else to your cart, then a shipping fee might get tacked on. The more you add to your cart, the less of a shipping discount you typically get but you can always split your order as Toys R Us usually ships orders over $25 for free.
(Expiry: 9th April 2015)