Toys R Us Canada: $30 Off Summer Infant 3D Lite Convenience Stroller - Now $69.97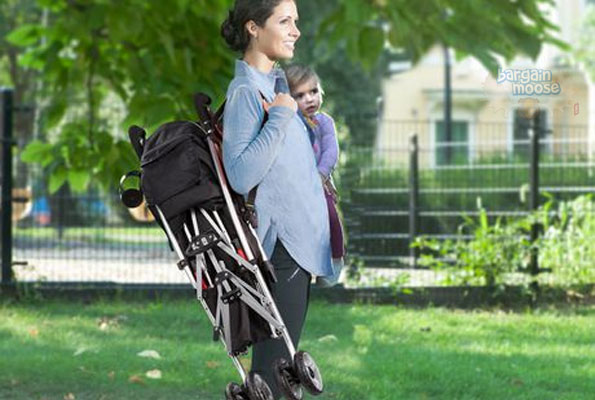 Hate your stroller? Then take advantage of this deal at Toys R Us: the Summer Infant 3D lite convenience stroller is on sale for just $69.97 (reg. $99.99).
Available in either Caribbean blue or lime colour, the lightweight stroller only weighs 15.5lbs. It can hold a child up to 50lbs and surprisingly, features characteristics like: anti-shock front wheels, durable frame, large seat, 5-point safety harness, multi-position recline, etc.
I have to admit that just looking at the picture of the stroller, I wouldn't have expected it to have all of those features, especially not the multi-position recline. It's also compact, can easily be folded away and carried around using the carry strap.
My stroller is super bulky and although I loved it at first, I'm starting to hate it a little more each day. Since it's heavy to put in and out of the trunk of my car, I hardly ever use it now. Not to mention the fact that it takes up a lot of room in the trunk but I figure that with the Summer Infant 3D, I could save myself some hassle folding and unfolding it, along with putting it away. Even the basket looks spacious enough, which is a definite perk.
It has a 3.6/5 overall star rating, but only 2 reviewers didn't like it that much, but that only because of the apparent difficulty in folding it. Both of these reviewers did, however, praise it for the tall handle bar. The other reviewers, on the other hand, absolutely loved it, like this one:
I bought this stroller when I was fed up with one of those little umbrella strollers - handles too low, wheels terrible right? Ditch the umbrella stroller and pay the extra for this stroller. It maneuvers VERY well even in a bit of snow. It's durable - I've traveled internationally with this thing and it's still like new. It is NOT hard to fold down and you don't need two hands to do it.
At every other store, like Walmart, Sears or even Staples, this stroller is $99.99.
You will get a $10 discount on shipping, so depending on where you live, it should only cost about $4 to have it shipped. Otherwise, you could potentially pick it up in-stores for free.
(Expiry: 3rd August 2015)