Toys R Us Canada 2014 Boxing Day Flyer is Here (Dec 26-Jan 2)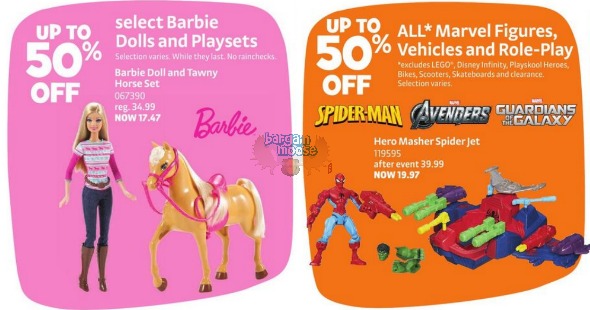 I know that you have probably purchased any toy you could possible need for your children for Christmas, but if there is still something your little ones desire then you may want to flip through this Toys R Us Canada Boxing Day 2014 flyer. The Toys R Us Boxing Week sale begins on the 26th of December 2014 and will end on the 2nd of January 2015.
My son's birthday falls shortly after Christmas, so I really appreciate Boxing Day sales to get the gift he desires at an unbeatable price. This is particularly important after spending so much on Christmas gifts for my friends and family.
There seem to be plenty of great opportunities to save money at the Toys R Us Canada Boxing Day Sale, both online and in stores. This end of the year event might just bring you the hottest savings on toys.
As a little girl, I mostly played with monster trucks and other boyish toys - but I wish I had some of the Barbies that they have available now. During the Toys R Us Boxing Week sale, you can save up to 50% off select Barbie Dolls and play sets. The Barbie Doll and Tawny Horse Set will be $17.47 instead of $34.99.
For boys, there are equally amazing savings of up to 50% off all Marvel figures, vehicles and role-play toys. The Hero Masher Spider Jet looks pretty entertaining for your little guy - during this Boxing Day sale it is $19.97 instead of $39.99
Still on the search for a PlayStation 4 console? For the duration of the Toys R Us Boxing Day sale, you can purchase the PlayStation 4 500 GB Bundle with Little Big Planet 3 and NHL 15 for $449.99. This offer also comes with a free $40 Toys R Us gift card that you can use towards your next purchase. This appears to be available in stores only.
If you do happen to find any of these items at lower prices at other retailers, Toys R Us will price match any advertised prices. There are other great offers in this flyer too; I just wanted to highlight the major deals. Some other savings available during the Toys R Us Boxing Day Sale:
Save up to $30 on video games like Call of Duty, Just Dance 2015, etc.
Buy one get one 1/2 price on all Skylanders Trap Team figures, and traps
Save up to 40% off all Despicable Me 2 figures, plush, and role play items
Save 40% off LeapFrog software
among other deals
Here are the first two pages of the Toys R Us Boxing Day 2014 flyer, but you can also view the full version here.
[gallery link="file" columns="2" ids="200874,200873"]
(Expiry: 2nd January 2015)