Toys & More from $6 and up @ SnuggleBugz.ca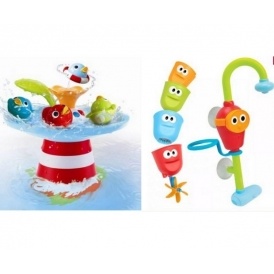 I'm smitten with SnuggleBugz.ca, they offer a large selection of really cool baby products and are having a good sale on selected items.
Sophie the Giraffe is on sale for $25.59, usually she sells for $30.00 at other retailers.
Here are some great toys for water play:
Yookidoo designed this fun Flow 'N' Fill Spout, it's $25.49 down from $29.99. These No Slip Tub Grips by Munchkin for only $9.59 down from $11.99 would be a great addition to play safely without slipping. This 4 pack of Sea Squirts would be fun for your little squirts for $7.19. Kids love using cups in water and these Munchkin Caterpillar Spillers form a cute caterpillar. They're $6.39 down from $7.99. Have you ever seen this Yookidoo Musical Duck Race bathtub toy? It's $42.49 down from $49.99 and you'll have to see it in action (scroll down on the link above to view the video.)
Here's a must have! The Organic Farm Buddies Organic Blankie Frenchy Fox is on sale for $16.99 down from $19.99.
SnuggleBugz offers free shipping on orders over $49 with some exceptions. Otherwise shipping fees vary.