Toy Story Buzz Lightyear Power Projector was $50 now $33 @ Walmart.ca!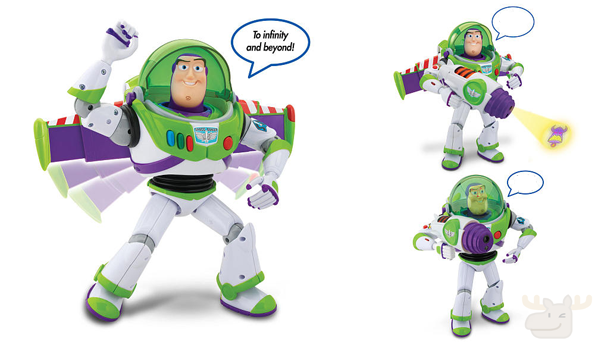 Toys, toys, toys! We've been finding some superb deals on toys lately here on Bargainmoose, so I hope you are taking advantage of all the bargains. It's a perfect time to start stocking up for Christmas, so that you don't have a huge outlay in December. If there's a little Toy Story fan in your household, that's exactly what you should do today – buy this Toy Story Buzz Lightyear Power Projector at a discounted price! It was originally $49.94, but you can grab it for only $33 at Walmart Canada right now.
The Toy Story Buzz Lightyear Power Projector looks like a great toy, with lots of different little modes and features which make it pretty true to the original Buzz Lightyear in the Toy Story movie, such as the pop-out wings or the laser dot. The toy requires 3x AAA batteries which are not included – you'd be much better getting some rechargables into this bad boy anyway.
I cannot find this exact toy for sale anywhere else online in Canada. But just to show you the price elsewhere, this is $47US on Amazon.com, which is obviously quite a bit more than that with the crappy Canadian exchange rate just now. Even on the DOT COM of Toys R Us, the toy is also $45… so in using these prices as a base, the current deal on Walmart.ca is actually really great.
And as for shipping, you probably want to order this online and collect at your local Canada Post, so there won't be any extra shipping fees. However, if you feel so inclined, pop a few extra items in your shopping cart and top your order up to $50 or more – then you can get it shipped for free to your home instead.
(Expires: unknown)