Thomas & Friends 2-In-1 Toy Box With Art Board Lid Was $90 | Now $53 @ Sears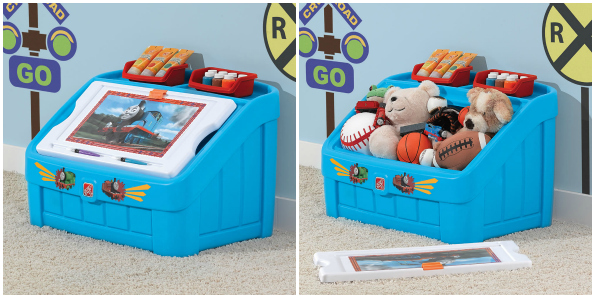 Does your child have too many toys and not enough places to put them? Then check out this Step 2 Thomas & Friends 2-In-1 Toy Box With Art Board Lid on sale at Sears Canada. Originally $89.99, the toy box is now on sale for $62.99. Use the $10 off coupon code 941612528 to bring your child's toy box down to just $52.99. Choose in-store pickup to avoid outrageous shipping costs. You can pick up at your local Sears store or outlet for free - there are over 1300 locations across Canada.
This is a two-in-one toy box as the lid doubles as an art board. You can take the lid off the toy box and your child can sit it practically anywhere to colour. They can also doodle on the lid while it is on the toy box - thus decorating their own toy box or leaving messages for others to keep out.The Thomas & Friends toy box comes in Thomas colours with Thomas decals. The storage box will match the Thomas the Tank Engine Toddler Bed if you have it.
This toy box holds plenty of toys. It has 4.5 cubic feet of interior storage space for toys, though some kids like to place inside the box too. One reviewer at Toys R Us said:
We bought this for our daughter, who is two years old. She loves it! The first day she had it, she was so excited she even played inside of it, and we weren't worried about her safety when she did so. She can draw on the lid. We can fit lots of toys in it. We think it is a great toy box, and would recommend it to others.
Speaking of Toys R Us Canada, this box was $99.99 and is on sale for $74.97 there (now sold out). With Sears Canada's price over $20 cheaper, I thought this was a nice little deal. It is a great way to clean up all those toys your child has laying around AND it is a toy in and of itself: that drawing lid is pretty. cool. There is also an art clip that lets your kids decorate the toy box by displaying their own art on it.
Again - make sure you choose in-store pickup at your local outlet or Sears Canada store. The shipping charges to your door are terribly unreasonable.
(Expiry: Unknown)