The Source Canada: Silverlit Sky Eagle R/C Helicopter (Refurbished) Was $100 Now $14 (Expired)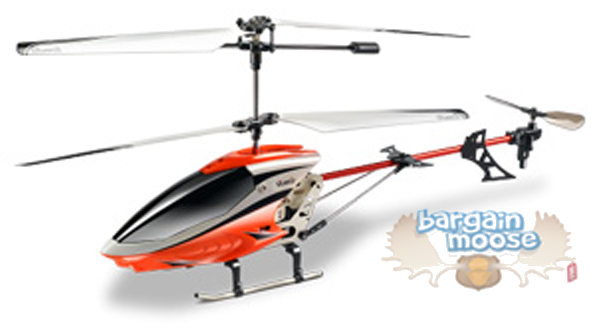 Now this deal is smoking hot! Whether you're an R/C helicopter fan or someone who just loves interesting gadgets, this deal from The Source should pique your interest. Normally priced at $100, you can order a refurbished Silverlit Sky Eagle R/C Helicopter for only $14! You read that right - that's 86% off of the regular price! You'll also have to pay an extra $4.99 for standard shipping.
With a span of 33 cm, this Sky Eagle R/C Helicopter can steadily ascend thanks to its unique roto blade system. It even comes with a 27 mHZ wireless remote control, so you can enjoy piloting this R/C helicopter from a distance.
I think that R/C helicopters are pretty cool. You can surprise unsuspecting friends out of nowhere, and in this case, it's very affordable! I never had one of these when I was younger, since they were just too expensive at the time (and many of them were wired, so you didn't have the freedom with them that you do nowadays). At $14, you really can't go wrong with this purchase.
When it comes to deals, The Source can really be hit or miss. Though it can be challenging at times to find an especially thrifty deal from them, this Silverlit Sky Eagle R/C Helicopter is certainly a hit! It's tough to find this particular R/C helicopter in Canada anywhere besides The Source, but I did find an Ebay listing where it's listed for the outrageous price of $193, and it's listed on the UK version of Amazon for the equivalent of $125 Canadian dollars.
Here is a brief review from a satisfied customer that purchased this Silverlit Sky Eagle R/C Helicopter from The Source:
Easy to use. This is my first R/C Helicopter. It was a very good deal. Instructions are easy to follow and it's quite easy to fly. Nice to have a few extra parts. The Helicopter doesn't feel cheap. Very well made.
I hope this deal perked up your Thursday morning! Happy hunting, Bargainmoosers!
(Expiry: Unknown)