The Children's Place Coupon: Extra 50% Off & Free Shipping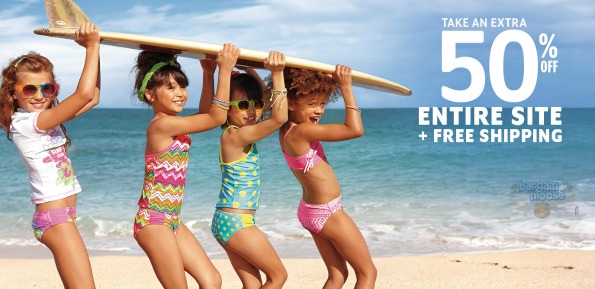 The Children's Place is a very popular store for kid's clothing. Currently, they are offering 50% off everything with free shipping as well. Both the 50% off and the free shipping do not require a minimum purchase.
Click here to shop @ The Children's Place now
Coupon Code: DEAL3
Discount: 50% off & Free Shipping
Expiry: 16th April 2015
I like coupons like this because you can use them two ways. First, you can purchase full priced items that you want but have not gone on sale yet. This way, you have the greatest size and colour selection. Second, and my favourite way, is pairing this coupon code up with the clearance section. This way you combine sale prices with an extra 50% off coupon and free shipping for some incredible deals.
When you have a very young child, it is important to keep their head warm! I found this hat 2-pack (blue) on sale from $14.95 down to $9.49. In the pack, you receive a solid light blue hat and a darker blue hat with light blue stars. Size 6 - 12 months is still available. After coupon code, you will pay just $4.75 with free shipping. For only a few cents more, you can purchase the hat 2-pack (pink) set. One hat is pink; the other is white with multi-colour polka dots. Originally $14.95 and now on sale for $9.99, the two-pack of hats comes down to $4.99 with free shipping.
Purchase a couple tops for your sweet little girl. With this offer, they will cost about the same as a cup of coffee. The 3D graphic top is on sale from $16.95 down to $10.49. After coupon code, each shirt only costs $5.25 with free shipping. There are two colours to choose from, pink tint or caddy pink. Three sizes are still available:
6 to 9 months
9 to 12  months
18 to 24 months
This little striped oxford bodysuit may be the cutest thing known to baby clothing. If you must take your young one to a formal occasion, then this oxford bodysuit will make your child look all spiffy. Originally $19.95, the bodysuit is on sale for $13.49. After coupon code, pay just $6.75 with free shipping.
There are plenty more deals in The Children's Place clearance section to combine with this coupon code. Unlike the last good deal The Children's Place offered, which was one day only, this coupon is valid for two days.
Let us know what you buy!