The Children's Place Canada: Rain Coats & Pants 50% Off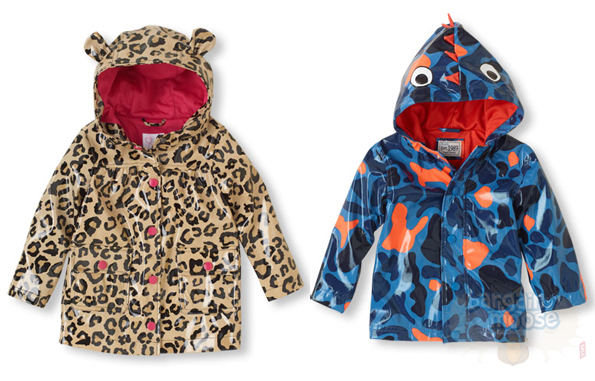 I am always on the hunt for great deals on kids clothing because I have two boys and they grow so fast. I found a really awesome deal on rain wear over at The Children's Place Canada.  Save 50% on all rain coats and pants for a limited time only.
Even though rain season is almost done now for a lot of Canada, this is the perfect time to buy ahead for next year.  We go camping all the time and my boys get a lot of use out of their rain coats.  We need to buy new ones every single year, so I found the best way to save is to buy one or two sizes bigger or the next year.  This way when they need them for next spring, instead of paying full price when I buy them, I will already have them and I got 50% off to boot!
Even though I have two boys, I was instantly drawn to this adorable girl's leopard print rain jacket that was $44.95 and is now on sale for just $22.48. I may just have to grab it for my niece because it is so cute!
My younger son would love this monster rain jacket that was $44.95 and is now marked down to just $22.48.  My older son would want something more like this camo rain jacket that was $49.95 and is now just $24.98.
Don't forget about the rain splash pants for jumping in puddles.  These black splash pants were $24.95 and are now 50% off bringing the total down to just $12.48.
If you want to grab some rain boots to match the jackets and pants, they have those too.  They are not on sale for the 50% off but they are on sale. All of the rain boots are now on sale for $20 each no matter if they were the regular price of $29.95 or $24.95.
Since these prices are discounted so much right now, there are limited quantities of some of the products.
While you are shopping, make sure to check out the clearance deals.  They currently have deals starting at just $0.89 for girls, boys, toddlers and baby items. You can stock up at a fraction of the regular prices. It just doesn't get better than that!
The Children's Place offers a flat rate shipping of $8.
(Expiry: Limited time offer)