Little People Disney Jolly Trolley for Was $30 | Now $10 @ Walmart.ca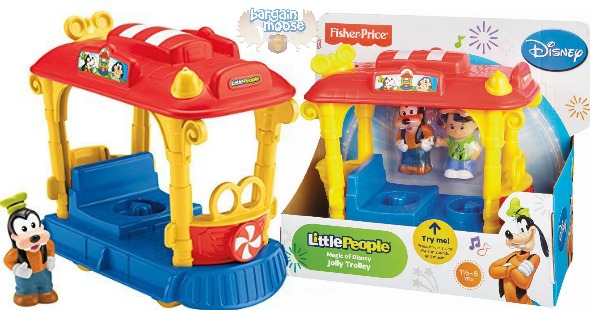 Do you have a little boy or girl in your household? One of the most popular toys for children under 5, is the Little People collection. The Fisher Price Little People toys range from princess and castles all the way to super heroes and farm animals. If you want to get a Fisher Price Little People collection started for your kiddos, why not start with a Disney theme? Right now Walmart.ca has the Little People Disney Jolly Trolley on sale from $29.94 down to just $10. There are a few different shipping options available.
Now your child can bring the included Little People characters Koby and Goofy on a fun and magical ride in the Fisher Price Little People Disney Jolly Trolley. By purchasing this toy from Walmart Canada now, you will take quite a chunk off the original price and pay just $10. Not bad, right?
Your little one can pretend to be a tour guide for hours. They can simply push down on the drivers seat to hear a few different fun tunes and sounds. Where will the next stop be? Maybe Cinderella's castle or to meet Bambi. You can drive this trolley to more of the Little People Discover Disney play sets for even more adventures. For more amusement,  your little one can turn the key on top of the trolley to get that classic clicker noise that all children seem to love. Judging by the design and features of this toy, I would say it is best suited for children 1 - 3 years of age but Walmart.ca suggests this Little People toy for children under 5.
Customer reviews on this Fisher Price Little People set inform us that the set is durable, cute and entertaining. However, if your child is over 3 years of age they may quickly become bored of this toy. Personally, my son love Fisher Price Little People for so long. Now he is quite obsessed with Thomas The Train, but if he still loved Little People I would snag this deal for sure. There are other cute Mickey Mouse characters in other Disney sets too if you want to get a little nostalgic.
The shipping policy at Walmart Canada online has a few different options. If you spend $50 you will get free shipping to your home. If not, you can choose between having the item shipped to your local Canada Post Office for free, or you can have the item sent to a local Grab & Go locker in a Walmart location if they offer that in your area.
(Expiry: Unknown)