Stonz Wear Canada:50% Off Select Booties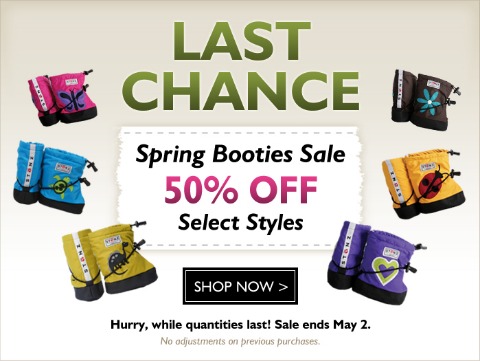 Select Stonz Booties are on sale for 50% off until 2 May! These Canadian made booties for kids 0-3 are perfect for spring, summer or fall! You'll also get free shipping on orders over $50.
There are over 20 styles of booties on sale for boys and girls. I like the Camouflage Green/Brown Booties for boys and the Purple Heart Booties for girls. All sale booties are priced at $23.47 (reg. $46.95).
One Stonz reviewer said,
I bought the booties for my daughter last year and I loved them! People were stopping me all the time asking about them. I only wish I had known about Stonz booties when my son was a baby/toddler. They are wonderful ! I am definitely buying another pair for my daughter this year.
I agree! They make a great baby gift!
(Expires: 2 May)