Step 2 Build & Store Block Activity Table was $140 now $84 & Free Shipping @ Sears.ca! (EXPIRED)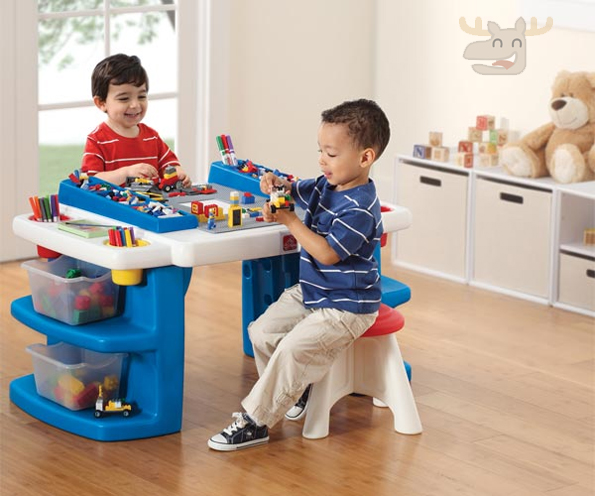 This weekend at Sears Canada, they are having a 48 hour doorbuster sale in which they are offering up to 50% off many items. While the majority of the "deals" in the sale seem to be lacklustre and mediocre, I did spot this Step 2 Build & Store Block Activity Table which does actually seem to be a really good bargain. Originally priced at $139.99, you can pick up this little toy for only $83.99 and that's with FREE shipping to your home as well!
Sears is stating that this is a 40% discount on the original price, which is a good saving.
I did a little digging to see the prices of this exact Step 2 model elsewhere online, but it wasn't easy to find. You can buy it on Amazon from $183 upwards… but not many other places seem to stock it at all.
The table itself looks excellent – there are many features which I think would be very useful, such as:
Molded-in storage areas
Four bins included
Includes one 11" round stool
Large workspace for creative projects and building blocks
The table even holds two LEGO base plates (not included) so it could even be good for making your LEGO projects. Doesn't it look fantastic?
This Step 2 activity table states that it is good for ages 3 and upwards. Judging from the picture and the size of the kids at the table, I'd say you could use it for kids between 2 and 6ish… until they got too big for the table.
My girls are 2 and 5, and they would LOVE this table. Sadly, I just don't have the space in my house to fit it in! Would you?
(Expires: unknown)