Star Wars Stormtrooper Shoes Were $70 | Now $31.50 @ Adidas.ca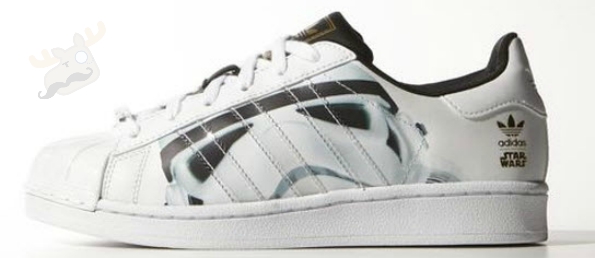 I am pretty delighted to have found a fun and fabulous deal on some Star Wars shoes for your little one. These Infants Superstar Star Wars Stormtrooper Shoes were $70 but are now on sale for $35. Until end of day today, you can use coupon code PAYPAL10 it reduces the price to $31.50. Shipping is free on $50 or more and orders under that only cost $4.50 for delivery - an exceptionally reasonable rate.
Surprisingly, sizes four through eight are still in stock, so you can choose from five sizes for your little one. These shoes are perfect for toddlers just gaining their sea-legs. With a bit of traction on the bottom, your little one can run around the house or the outdoors in their Stormtrooper themed shoes. The soles of the shoes are white, which is perfect for wearing in the house as they will not mark up your floors.
The shoes are primarily white with black accents. On the side of the shoe is a Stormtrooper face peeking out at you. On the back there is the official Star Wars Adidas stamp.
I would generally consider $70 a bit steep for a pair of shoes my kid will outgrow in a few months but $31.50 is far more reasonable in my books. You could totally pair these fun little shoes with the Infant Star Wars Stormtrooper Track Suit that Eva blogged about. It was not quite as steeply discounted as these shoes, but together they would make a great little outfit for your wee one.
Now, if your budget can stretch a bit more, I would recommend the Infants ZX 700 Darth Vader CF Shoes. They are on sale from $70 down to $49. After the extra coupon code, they come down to $44.10. I think these shoes look cooler because they are black (I love black) and they have Darth Vader's mask on the back heel of the shoe. Honestly, that just rocks. Sizes four through 10 are in stock in this shoe.
I love cute little deals like this where brand name shoes with really cool and popular characters go on sale for a significant discount. This way, you can buy a really cool pair of shoes for the same price as a normal pair of shoes elsewhere.
(Coupon expiry: 20th September 2015)