Star Wars Storage Collection from $13 @ Bed Bath & Beyond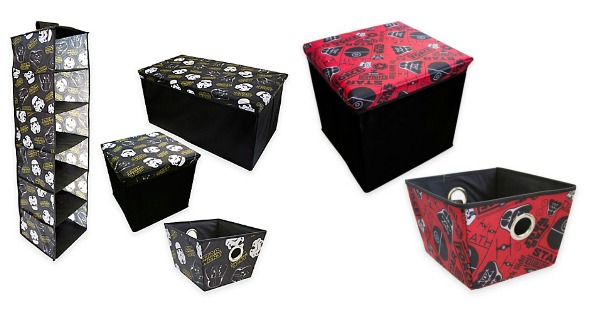 With the popularity of Star Wars at its peak - and the need to organize (hide) kids' stuff constant - I thought I should definitely share this collection of Star Wars storage items at Bed Bath & Beyond. There are even two main colours to choose from, depending on your little fan's decor or favourite hue.
Each piece features a print of Star Wars designs, including Darth Vader, TIE Fighters and more. Available in both colours are the small storage cube and storage bin. You've got two more options if you're opting for the black background: a hanging wall organizer and the large storage cube. Prices range from $12.99 for the bin to $26.99 for the large cube.
For $19.99, Bed Bath & Beyond also has a 6-pack of Nesting Boxes for smaller toys, trading cards and other goodies. Maybe stash that stack of video games out of sight!
The product summaries are quite cute:
This Star Wars Storage Collection is an ideal way for your dark side to keep their items neat and tidy.

No Force sensitivity required

Don't let any of your precious belongings fall through Cloud City...
Bed Bath & Beyond offers free shipping on orders over $99; costs for orders below that vary depending upon order value but start at $5.99.
(Expires: Unknown)