Sportcraft Youth Ice Skating Trainer Now $20 @ Sears.ca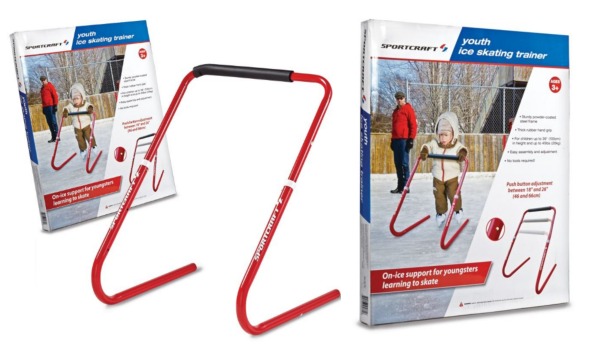 Teaching your young child how to skate can be quite challenging. When I saw this Ice Skating Trainer, I knew it might interest some parents out there. This Sportcraft Youth Ice Trainer is only $20.69 at Sears online. It's the best price out there. Can you imagine these were selling for $39.99 at Canadian Tire? Too expensive for me, but for $20, it's a great way for your little one to learn how to skate.
Here's the story. I saw a picture on Facebook of my friend's child skating with this Ice Skating Trainer. I think to myself, what a great idea for my little guy. I send her a message, asking her where she bought it. She responds by telling me she got it at Canadian Tire. I check for it online, and I'm super confused by the price: $39.99. That is way too expensive! So I check around for other prices, and the best price I could find is at Sears, with this Sportcraft Youth Ice Skating Trainer for $20.
We went out skating this afternoon, and we could've used this. My son was rolling around she skating rink because he couldn't skate. It was quite the sight. Needless to say, I'll be getting one of these!
Shipping is free at Sears on orders over $49. You might want to check around their site, there are lots of good sales going on at the moment. If you can't find anything else, you can always pick this up for free at a Sears pick-up location.
(Expiry: Unknown)