Sofia the First & TMNT Happy Haulers Were $50 | Now $23 @ Walmart.ca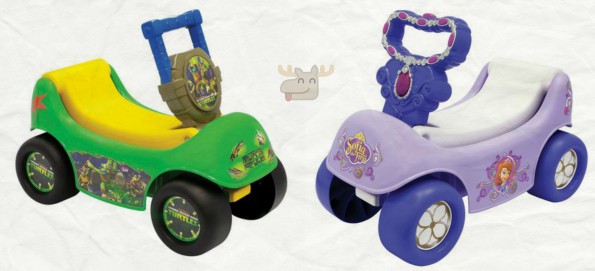 I am so pleased with this cool little deal for children. Both the Sofia the First Happy Hauler and Teenage Mutant Ninja Turtles Happy Hauler are on sale from $49.93 down to just $35 23 each. Receive free shipping to your local Canada post location, which is pretty much as good as home shipping.
Happy haulers are fun little vehicles that your child rides on: they will keep your child entertained for hours. Sophia the First is perfect for young girls ages three to five years and the Teenage Mutant Ninja Turtles happy hauler is perfect for boys around the same age.
I could not find these elsewhere in Canada, but I did find a Disney Cars - Happy Hauler at Toys R Us for $59.99. Given the usual going price of these units, I think this is a fantastic deal from Walmart Canada.
The happy hauler is given its name because you can haul a ton of stuff inside it. The seat folds up to reveal a hidden compartment perfect for carrying around toys (and maybe even putting them back). Your child can hide plenty of fun things in the compartment and then ride around to wherever they wish to play.
Each happy hauler is decked out in deckles and a pretty colour combo to match its theme. Sophia the First has a certain princess vibe whereas the TMNT hauler has a more rugged look.
While Walmart says that these vehicles are for ages three to five, I found other websites saying they were good for children ages one through six. I assume it depends on your child's level of balance and coordination.
These are also on sale at my local stores, but they are sold out at each one! It appears that these happy haulers are a big hit with parents. I think they would make a great birthday gift or Christmas gift for your little one. I always liked receiving BIG gifts and now you can give your child something big for a small price.
If you do want home delivery, the free shipping minimum is $50. However, free shipping to your local Canada Post location is almost as good. A parcel this size you would probably have to pick up anyway if you are not home.
(Expiry: Unknown)