Skip Hop Explore & More Roll Toys Only $6.50 @ Chapters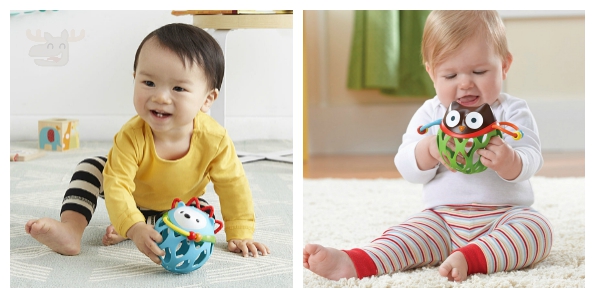 Skip Hop is such a popular brand for kids right now because they make awesome looking toys with animal themes that really appeal to children. I ran across These Skip Hop Explore & More Roll Around toys that are incredibly adorable. Originally $8.95, these cute little roll toys are on sale for $6.50 each. Receive free shipping on orders of $25 or more.
I made sure to price compare these toys with other major retailers. These exact toys cost $9.99 @ Toys R Us Canada and are $9 @ Amazon Canada. At Well.ca, all animals except for the owl retail for $9.99 and the owl alone is on sale for $8 but it is already sold out! Given that a whole bunch of people paid an extra $1.50  for this toy to the point it sold out, I figured $6.50 was a great price for these roll toys.
You get choices my dear Moosers! There are three different roll toys to choose from and I recommend buying all three at this price. I ADORE the hedgehog (I have had a few as pets) but the owl and the bee are also super cute. These little roll around toys have a flexible body and easy to grasp openings for young hands. It helps your little one develop better dexterity. The toy facilitates various forms of play such as rolling, shaking, and tossing. They can also teeth on the rings on the side and play with the beads as well.
One reviewer said:
My 5 month old nephew doesn't want the pacifier, Sophie the giraffe, or anything. However, he will chew on your finger happily and bite down sometimes. I bought this thinking he could at least hold it and move it around and to our surprise, we actually puts it in his mouth! He was happy to have it so this is a win in my books!
I really like these little balls and I think they will be a big hit with children. Given such a reasonable price, I figured this was a nice deal for our mother Moosers. The balls get rave reviews no matter which store you look at, so these are a sold choice. Pick a few up for Christmas.
(Expiry: unknown)