Sears Canada: Little Tikes Fold Away Climber Only $13 & Shipping *PRICE ERROR?* (EXPIRED)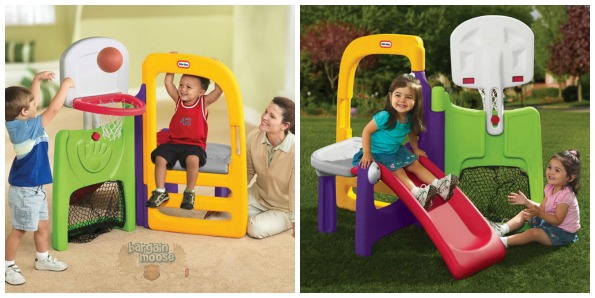 Sears Canada currently has the Little Tikes Fold Away Climber priced at only $12.99! While the climber is not showing as on sale at Sears Canada, I consulted the Little Tikes website where this exact climber retails for $129.99.
I believe that the Sears Canada price is a pricing error. Currently, they list their quantity in stock as "Pending" so I do not know how many are actually in stock or if they will honour the price they have listed. That means, you may or may not get this deal.
If you do manage to score this deal, you will be super lucky. The price at Sears is 90% off the original retail price given at Little Tikes. You will have to pay for either handing to store ($4.95) or shipping to your home (starting at $7.95). Even with this additional fee, you cannot go wrong with this sweet little climber for your kids.
The fold away climber is like a mini gym for your kids. They can climb up to the platform, slide down the little red slide, play soccer and score in the net, and even play basketball. The folding climber includes a basketball for your little ones to use with the set. You can play with the climber indoors or outdoors. Conveniently, it folds up easily for storage and thus makes an ideal larger toy for apartments, condominiums, and smaller homes.
The climber has a maximum weight limit of 50 lbs and is meant for only one child to be on it at a time. For all other instructions, please see the enclosed manual you will receive with the Little Tikes Climber.
I do not have kids of my own so I really cannot say whether this would be a good toy, but the reviews on little Tikes is overwhelmingly positive. One grandparent said:
This was very good birthday gift for our grandson. He is a very active little boy and needs to burn off energy and this really does it. It offers a lot of things to do in a easy store toy. Parents were thrilled
If you think this is something your child or grandchild would like, pick it up quickly. I hope Sears Canada actually honours this price and sends them out to everyone who buys one.
(Expiry: Unknown)