Save Up To Half Price On Toys, Necessities and More - Prices From $2 @ Babies R Us Canada!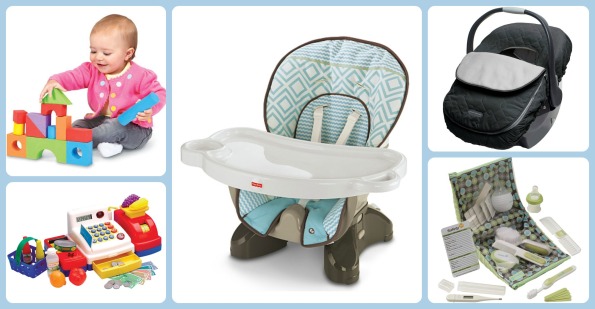 Babies R Us Canada is advertising their lowest prices of the season. Right now you can save up to 50% off toys, necessities and so much more. Browsing this sale is a lot of fun, so you may want to chain up your wallet and have a discussion before going through the check out process. Toys R Us Canada offers free shipping on orders over $49.
There are so many items in this Babies R Us sale. I almost didn't know where to start! I selected a few of the best selling, best priced items to highlight for you. So have a look at the items that caught my eye, and then be sure to have a browse for yourself as well so you don't miss out on anything.
The Safey 1st Deluxe Health & Grooming Kit (Green) is a great item for any mama to have. Whether you already have an infant or you are expecting, this is a great purchase. It would even make a fab little baby shower gift if you have one of those coming up. This Safety 1st kit would normally cost you $39.99 but is on sale for just $19.87. Another necessity item would be the Fisher Price SpaceSaver High Chair in Teal Tempo. It was originally a whopping $80 but now you can score it for a super fabulous price which is just $47.87.
Infants that are learning to sit up or have learned to sit up already will love these Bruin 50 Piece Foam Building Blocks. They were $16.99 but are on sale for $10.17. I considered buying 5 or 6 packs for the ultimate building fun with my toddler, but you are limited to two of these per customer. Speaking of fun toddler toys, check out this Bruin Cash Register. I wanted one of these to teach my son about money, but of course I didn't want to pay full price. Luckily it is on sale for just $15.67 right now.
Trying to escape the winter chills? No problem. Get this JJ Cole Car Seat Cover and both you and your infant will be happy. This is a great way to ensure your child is safe and sound in their car seat without the extra bulk of a snow suit. This car seat cover was $39.99 but right now you can get it for $27.87.
Babies R Us Canada (ToysRUs.ca) advertises free shipping on orders over $49, but customers in certain areas may find that they are excluded from that opportunity. If that is the case, you will get a $10 discount on shipping instead which could still make for a very reasonable shipping fee.
Moosers, what did you snag during this sale?
(Expiry: 14th February 2016)