Refurbished Xbox One w/ Kinect & 3 Games only $349 @ Microsoft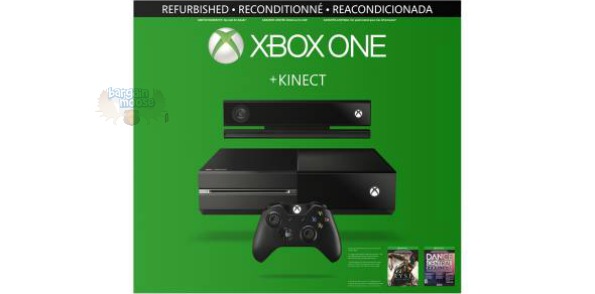 Microsoft Canada has a very good deal on a Refurbished Xbox One with Kinect and two games. Get the bundle for just $349, valued at $399.99 and get a bonus game with it!
You are getting a lot in this bundle:
Xbox One
Kinect Sensor
Xbox One wireless controller
Xbox One chat headset
Game - Dance Central Spotlight (download)
Game - Ryse: Son of Rome (download)
On top of that, you get to choose a third game free with your bundle purchase. This game has a retail value between $39.99 and $69.99 depending on the game you choose. Here are your highest value options:
Halo: The Master Chief Collection for Xbox One ($69.99)
Call of Duty: Advanced Warfare for Xbox One (English or French) ($69.99)
Destiny for Xbox One (English or French) ($69.99)
Sunset Overdrive for Xbox One ($64.99)
Forza Horizon 2 Day One for Xbox One ($64.99)
Titanfall for Xbox One ($59.99)
There are other options, but these are the ones I would recommend as they have the highest retail value.
Now, we have seen Xbox Ones around this price before but they never included the Kinect, which retails separately for around $160 (on Amazon). I was just looking around at any Xbox One bundles that had the Kinect included, and they tended to retail well above this price. Amazon Canada has the Assassins Creed Bundle and the Forza Bundle with Kinect for $499 each. The same goes for Walmart and Future Shop. Any bundle with the Kinect included retails for around $500 and does not include an extra game (only two games, not three).
Yes, this is a refurbished console and that may turn some people off. However, I think that refurbished is better as the bugs have already been worked out of the system. I have been buying refurbished products for years and rarely have a problem with them. I consider the money saved worth the price of not buying something 'absolutely new.'
The refurbished console comes with a 90-day warranty and their might be minor cosmetic imperfections. If you are dying for the Xbox One and cannot afford the $500 price tag, then this is a viable alternative. Receive free shipping on all orders at Microsoft Canada.
(Expiry: 5th January 2015)