RaspberryKids.com Discount: 15% Off $50+!
I've mentioned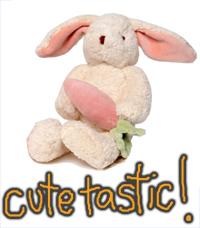 Where

: Online @ RaspberryKids.com

Discount

: 15% off $50+

Promo Code

:

easterbunny15
Expiry: Unknown
Check out these plush toys which start at $11.99. How cute are they!? A particular favourite of mine would be the MiYim Victoria Bunny with Carrot which (pictured) is currently priced at $23.99. That would make a gorgeous gift for a new baby! Their description of the products states, "Environmentally friendly, organic and cuter than cute!" I'd have to agree!
Shipping costs a wee bit extra, depending on how much you spend, but there is a quote system in your cart so you can see exactly how much it will be. At least the 15% coupon helps offset those shipping fees! If you want to sign up to their newsletters, you'll be entered into a draw to win some bamboo leg huggers!