(PS4) Knack Just $10 | Was $40 @ PSN Valentine's Day Flash Sale (+ Up To 80% Off Other Games)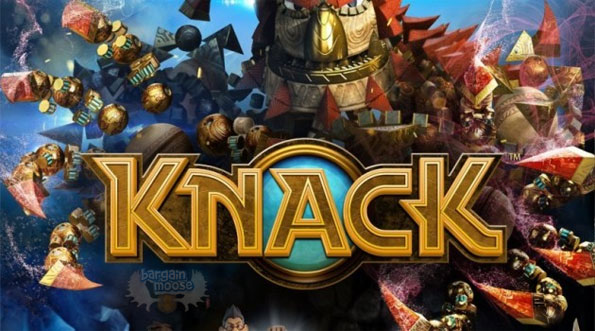 In celebration of Valentine's Day, the PlayStation Network has discounted a bunch of games as part of their Flash Sale and until Monday, Knack for PS4 is on sale for just $10 (reg. $39.99).
This is perhaps the lowest price that we have ever seen for Knack. It's a game that was released at the same time as the PlayStation 4 and features amazing graphics that perfectly showcase the latest console's capabilities. Reviews are somewhat mixed on this game but if you're looking for something new to play, then its current price reduction is definitely worth taking advantage. Keep in mind that it's only a digital copy that is good for one account. If you prefer having a hard copy of the game, then you can pick it up on sale for $20.48 at Amazon right now instead. It's usually priced at $39.99 and in fact, both Future Shop and Best Buy have it at that price. Here's what someone had to say about it on Amazon:
The thing I love about the game is the ability of the co op experience. In knack you can have another person join your game at anytime as your sidekick and then run around and bash things together. I think this game is geared toward young kids however having played video games myself since Atari I have to say I love this game.
Not interested in Knack? No worries, there are numerous other games on sale, including some of the PS3 and others for the PS Vita. Here's an overview of just some of the top games that you can pick up on sale:
PS3 Dead of Alive 5: reg. $19.99/ now $4
PS4 Divekick: reg. $9.99/ now $4
PS4 Dynasty Warriors 8 - Xtreme Legends: reg. $59.99/ now $18
PS3 Street Fighter X Tekken: reg. $29.99/ now $7.50
PSP Def Jam Fight For New York: reg. $9.99/ now $2
PS3 Digimon All-Star Rumble: reg. $39.99/ now $16
PS Vita Mortal Kombat - Unchained: reg. $9.99/ now $2.50
Lara Croft and the Temple of Osiris for the PS4 has also been slashed in price. It's down to just $8 (reg. $19.99) or $11.60 (reg. $28.99) with the season pass pack. The latter also include a season pass pack, thus explaining the slightly higher price. This game was released in December 2014 and has garnered a general consensus of 7/10 within the online gaming community with positive reviews like this one that was posted on Metacritic:
The best of Lara, whether played on your own, or shared with others.
A couple of movie rentals have also been reduced in price. Belle as well as Men, Women and Children are both down to $4.99, but there are also other movies like Rudderless, Snowpiercer, Sugar and In a World... to name a few.
(Expiry: 16th February 2015)