New Dinosaur Fingerlings Available Now @ Chapters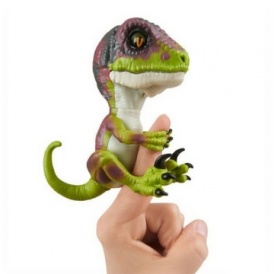 Quick! These little guys are in stock at Chapters Indigo, but they might not stay there for long!
Fingerlings Dinosaurs are real, and pre-orders are finally over – which mean you can buy the real thing NOW at Chapters Indigo! These little velociraptors sell for $19.95 each, and they're available online and in stores.
The Fingerlings Untamed pre-orders sold out right away the first time we spotted them, so I'd hurry if you're hoping to grab one or two (or all four)!
There are four to choose from:
I thought these might be knockoffs at first, but they look like the real deal. However, WowWee, the company behind Fingerlings, hasn't announced the new dino toys on their site.
Orders over $25 ship free, or you can ship your order to a Chapters store for free.
You can also find them at Mastermind Toys for $19.99 each or pre-order Fingerlings Untamed at Toys R Us Canada (if you're willing to shell out a few more cents and wait for a bit). They're selling for $19.99 each.
Looking for Fingerlings Toy Monkeys? Check out our list of where to buy Fingerlings in Canada!