Polly Pocket is Making a Comeback in 2018!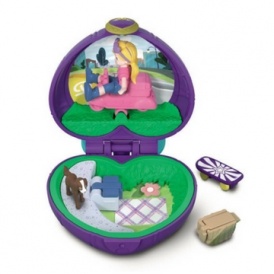 Remember Polly Pocket? The teeny-tiny dolls were one of the hit toys of the '90s, and they're finally making a comeback!
Mattel, the company that took over Bluebird Toys (who made the original compacts), announced they're relaunching an entirely new line of Polly Pocket dolls, and I really can't wait!
The new dolls are getting a makeover, and they (along with their compacts and accessories) will be a lot bigger than the Polly Pockets we're used to.
They'll be on sale in the US in June. There's no word of a Canadian launch yet, but we're crossing our fingers and hoping we'll be able to get them over here in Canada, too!
Hello, Polly! Are you as excited as we are? #PollyPocket https://t.co/msyh8YEJgR
— Mattel (@Mattel) February 12, 2018
The new sets include an underwater scene, a music studio and even a limo! Honestly, the new dolls look a bit like the LEGO Friends characters to me, but there's nothing wrong with that!
Polly Pockets have become a huge collector's item since they were discontinued in 1998, so this might be your chance to finally score a compact or two at a much more reasonable price than what they've been selling for lately.
So what do you think of the new designs? Let us know in the comments!