Please Mum Canada: Entire Store 40% - 60% off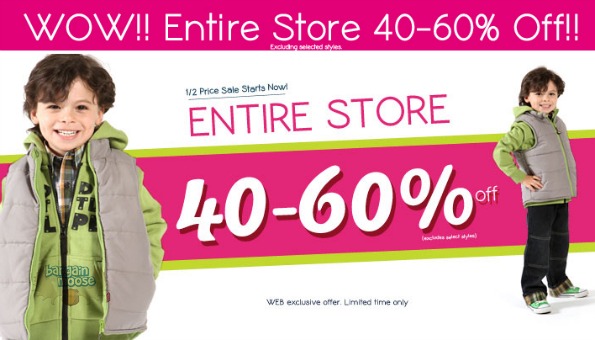 I love it when a store has an online exclusive sale that will save me money while shopping from home.  Right now, Please Mum has a site-wide exclusive happening.  Save between 40% - 60% site wide online only.
Here is a look at the deals you will find:
Back to school basics are 50% off
Baby styles are 50% off
Summer clearance up to 60% off
Outdoor gear 50% off
Rain wear 50% off
This is a great time to get some early Christmas shopping done.  You can also get  the size your kids will be needing for next year in some spring and summer clothing when these prices are so low.  I like buying ahead like this because you won't have to pay full price and you save a ton.
All of these deals are online specials only so if you are shopping in stores, the store will not be on sale 40%-60% off.
You will get free shipping on all orders over $75.
(Expiry: Unknown)