Play-Doh On Sale From $5 @ Toys R Us Canada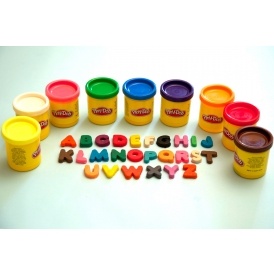 Every kid loves Play-Doh, but man that stuff can be costly once they get addicted to it. Is this something that the Easter bunny may need to pick up? In my house, we have an hour every evening where the television, computers and cell phones are turned off. I usually bake or do some adult colouring books, but my son always goes for his Play-Doh at that time. It is time I stock up on some new and entertaining sets, and would you look at this sale from Toys R Us? For a limited time you can get Play-Doh sets and packs on sale for as low as $5. Spend $49 to get free shipping.
There are several Play-Doh items and packs on sale at ToysRUs.ca right now, but the better discounts to be had are in the more expensive items. I think my little guy would have a lot of fun with a set like this Play-Doh Sweet Shoppe Double Desserts Playset which is on sale from $22.99 down to just $14.98. Just be sure to kindly remind your child (and unsuspecting husband) that these treats are not edible.
A Play Doh essential is available at a great price too. The Play Doh Play Mat will save you a lot of mess - trust me. This mat is on sale from $19.99 down to $13.97 but it is priceless. I really just lift it off the table and shake it into the trash after all the Play Doh and tools have been cleaned up. Yay, no more Play Doh caked onto my table.
You're going to want quite a variety of colours as well. It will help your little ones use their imagination to the fullest. This Play Doh Super Colour Pack is quite a steal right now. You can get 20 cans of this dough for just $16.07 which is less than one dollar per canister. Right on!
As I mentioned before, you will need to spend $49 to have shipping and handling tossed in for free. That minimum spend may be easy with discounts like this!
(Expiry: Unknown)