Pink Radio Flyer My 1st Scooter $25 @ Walmart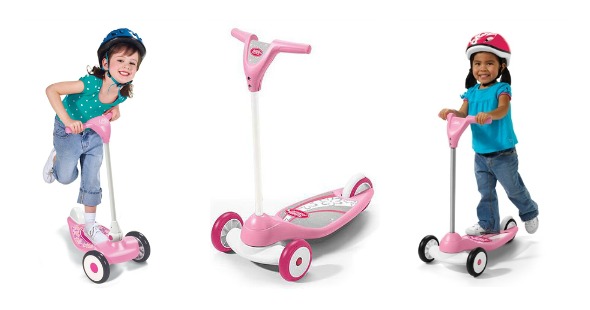 The deals on kids' stuff just keep coming from Walmart.ca! Although only the pink colour is marked as clearance, the price of this Radio Flyer My 1st Scooter has been slashed in half! Regularly $49.97, grab it now for $25.
What little girl wouldn't love zipping around on this in the spring?! This cute little scooter was designed for little ones that are still mastering balance and coordination -- about 2-4 years old. It's got 3 wheels for stability and safety and a wide base for better balance. There's also a foot brake for control.
The average price for the Radio Flyer My 1st Scooter is between $50 and $60 so this is certainly a steal! The red version is also available at Walmart but it's still regular price at $50 and it appears there isn't much stock remaining.
As the great price is below Walmart's free shipping threshold, you'll need to top up your order to $50 for free delivery or have it shipped to your local post office.
We know from experience that these Clearance deals do not last long so if you've got a kiddo that would want this scooter, hop over to Walmart.ca as soon as you can!
(Expires: Unknown)