Pie Face for $13.97 & 30% off Other Hasbro Games @ Toys R Us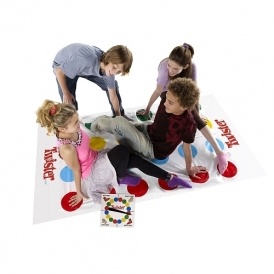 Yesterday we wrote about our predictions for the Best Board Games for the holidays this year and it's as if Toys R Us heard us! They've got all Hasbro games (that had a price of $19.99 or more) for 30% off—including the ever popular Pie Face.
As I mentioned, the hilarious Pie Face is included in the sale. Regularly $19.99, you can snag it for just $13.97 right now. This would be a great one to have for Thanksgiving! (Which is just around the corner. Where does the time go?!)
The timeless Twister is a great option for family fun during the holidays, too. It's usually $24.99 but is down to $17.47 now. Another really fun one for teens and adults is Taboo, it's the same price.

There are a ton of fun Monopoly editions featuring more of your kiddos' favourite characters. Check out Despicable Me and Avengers for $19.57 and Star Wars that's down to $20.97. Also marked down to $20.97 is Electronic Guess Who? Extra. I played Guess Who? when I was little and absolutely loved it. Of course, way back then, mine wasn't electronic but the object is the same!
Grab a game or two for some family fun over the upcoming holidays while you can get them at a discount!
Toys R Us ships orders of $49 or more free of charge, otherwise, shipping will depend on your location and order contents.