Paw Patrol 12 pc. set $4.69 incl. shipping @ AliExpress (EXPIRED)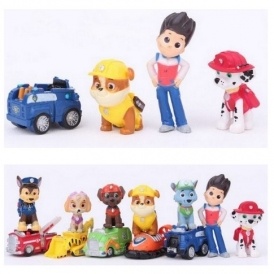 Paw Patrol is the most popular item parents are looking for in their quest to help Santa this year and we found the best set of 12 figurines of Paw Patrol mini figurines for $6.69 CAD incl. shipping, minus the following coupon:
If you are a new AliExpress customer you may wish to use a coupon to save $2.00 USD right here that a Bargainmoose reader discovered for us. (Thanks Alexcantin!) The coupon is available in limited quantities.
These are quite possibly not a licensed Paw Patrol product but they sure look cute and your kids will easily recognize the characters from their favourite TV show. It will take 39 - 60 days for them to arrive since they ship from China.
I love small toys for kids because they're easily packable so you can bring them anywhere. These Paw Patrol figurines are around 3 - 6 cm each. This is a perfect Christmas stocking stuffer!
Shipping is free.
(EXPIRED)