Only Through Monday: Take An Additional 20% Off Clearance Sweaters @ Joe Fresh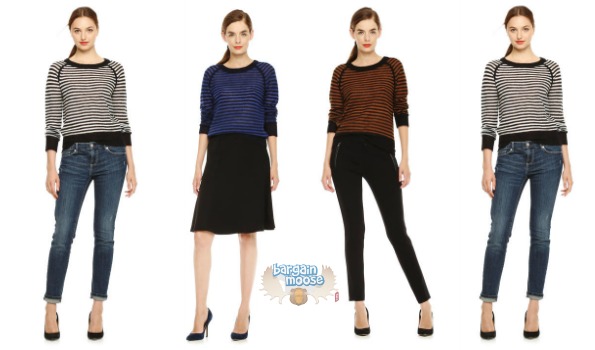 Joe Fresh is sweeping sweaters out of their stock which means you can snag some cute sweaters on the cheap. Check out their sweaters now at an additional 20% off clearance prices. Free shipping is available for all orders over $50. There is also lots of additional clearance to help you easily reach that minimum shipping.
Joe Fresh is dependable for classic basics on a budget. They always try to add a few trendy twists in so it is always worth a browse. I find I tend to buy more kids clothes in this brand than clothing for myself, though I will sometimes buy for me also. Most of the time that means a spare item next to my eggs and broccoli as I always seem to be shopping for Joe Fresh at the grocery store. It is not my fault they place some pretty scarves across from the coffee, I just happened to be in the right place at the right time.
The clearance section is ripe for the picking right now, though sweaters are the juiciest fruit with an additional 20% off. I like this Striped Sweater Crew Neck Sweater which was $49 and is now $11.95. It comes in black and white, brown with black stripes or navy with black stripes. The sizing is a little spotty so check carefully but the blue seems to be available in most sizes. I personally would grab the black and white stripes for a casual weekend day. I love the ¾ sleeves as half the time that is where my sleeves are at anyways. This sweater has a raglan tee look. Despite the casual cut, it could still be dressed up with the right accessories. I could see myself wearing this to brunch to meet up with friends on the weekend.
Dress your little sweetie up right for Valentine's Day with this cute little Baby Girls' Print Peplum Sweater which was $12 and is now $4.75. This sweater is dark pink with light pink hearts all over it. It would be super sweet with a pair of leggings. It seems available in most sizes from 3-6 months to 18-24 months and everything in between. Your smiley girl will be the belle of the babies on Valentine's Day.
Check out this awesome basic, the Men's Mohair Sweater which was $99 and is now $23.95. Mohair is made from the hair of an Angora Goat which gives it a silky feel. This sweater is a blended fabric but the dominant fibre is mohair. The sweater comes in navy, grey and black and is a crew neck style. It reminds me of a basic crewneck wool sweater but I bet that mohair fibre gives this sweater a much softer feel. There is no reason to be itchy all day just because it is chilly outside.
There are so many more sweaters on sale. I bet once you start shopping for your whole family your cart will be loaded with some steals up to $50 to qualify for free shipping. If you do not find everything you are looking for in the sweater section, bounce around to the rest of the clearance. There are other great steals up to 70% off to help you top off your cart.  Check out Eva's post on some of the great kid's winter items she scored in the clearance section of Joe Fresh recently.
(Expiry 26th January 2015)