Old Navy Canada: Kid's Polos Only $7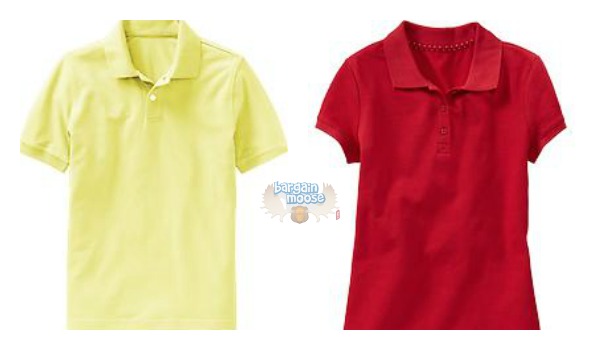 Get your kids ready for school and looking good with some polos for only $7 (reg. price $10.94).
I like my kids to look good at school. I'm not a fan of sending them in sweats to school, as I'm all about the adage, when you look good, you feel good. Although athletic attire is probably the most comfortable, there are other options that are just as comfortable, but look more polished. Polos are an example of this. Made from cotton and with a simple design, just adding that collar and button adds a sophisticated look to your child's wardrobe. Boys and girls can benefit from polos. If your school has a dress code, you may need these anyway. Old Navy has pretty much every colour you can think of, so if this is part of a uniform, at least you get the individuality and variety in the colours. I personally like the sweet butter the best for boys and something blue for the girls.
The long-sleeved ones are a good deal too at only $10, with a regular price of $14.94. Again, there are 14 colours available.
Old Navy also sells pants, skirts, jumpers and other uniform essentials. While my kids didn't go to a school with a dress code policy, I've had a few friends who have. They tell me buying uniforms can be a major expense and while you might say that it cuts down on the clothing expenses, it really doesn't. Your child will probably rush home and get changed into something else, which means they will still need another set of clothes, seven days of the week. Old Navy makes it much easier on the wallets of parents with kids who need to wear uniforms and because kids grow so fast, you don't need amazing quality, so spending $7 a top is a given.
Shipping is free on orders over $50, and you can combine your order with The Gap and Banana Republic to get up to that amount, so you might want to shop for their after-school clothing there too.
(Expiry: unknown)