Nerf Rebelle Powerbelle Blaster was $35 now $17 @ Walmart.ca Toy Clearance!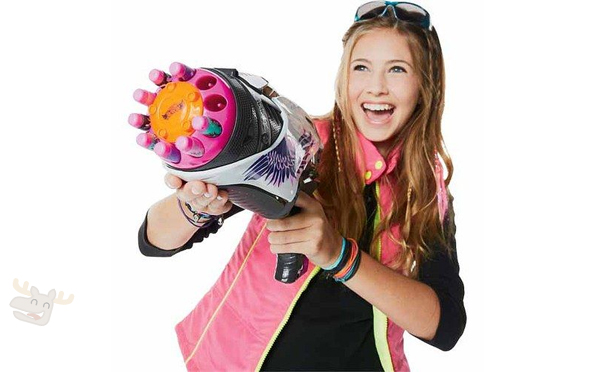 Walmart is having some superb sales on their clearance toys in the last few weeks! There have been some truly high discounts on top brand names, and this is another one for you. You can buy the kids' Nerf Rebelle Powerbelle Blaster at quite a reduction – it's actually 51% off. Originally costing $34.94, it can be purchase for only $17 from Walmart.ca just now!
The Nerf Rebelle Powerbelle Blaster is a toy gun from the popular Nerf range of toys, designed for "Motorized blasting."
One drawback of this toy is that it needs 6x AAA batteries, which do not come with the item. I'd always recommend using your own rechargeable batteries. But if you don't have any in the house, maybe you'd want to pick up this set of 30x AAAs for only $11.88 from Walmart too.
This toy is recommended for girls aged five to eight years old. My five year old would love it! Who am I kidding though… I would love it too! I never had a Nerf gun, I've always wanted one. I know, I know, I'm a big kid. :)
I had a bit of a google for reviews of this Nerf Rebelle Powerbelle Blaster and I found that there were a number of comments on the DOT COM rather than on Walmart.ca. The reviews seem overwhelmingly positive, with most people extremely happy with their Nerf gun. It scored 4.7 out of 5, from a total of 34 reviews – that's a high score. Here's one example of a happy owner:
I bought this for my six year old daughter. I didn't think she would like it as much as she does, I thought she would think it's a boy toy. She plays with this thing non-stop. It's light weight and easy to use.
However, the same reviewer went on to state one of the drawbacks of the Nerf gun:
The only down fall to this is its really loud and it keeps shooting even if it's out of darts.
I can imagine that would be a little irritating. But for those of us with kids, they're going to be noisy no matter what toy they're playing with. :)
Expires: unknown)