More Half-Price Deals @ Toys R Us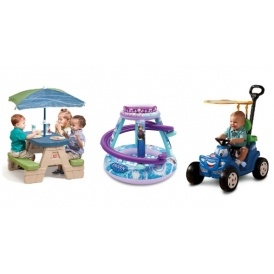 I'm loving these weekly half-price deals at Toys R Us! For three days only (through Sunday) there is a bunch of cool stuff with even cooler prices!
Is it bad that I want this for myself? Check out this inflatable Frozen Sisters Forever Play Land. It comes with 50 soft balls and a ramp, but most importantly, it's an inflatable ball pit! Regularly $79.99, it's on for $39.97.
We've been watching the prices on these for our little guy and 50% off is pretty sweet. The Little Tikes 2-in-1 Deluxe Cozy Roadster lets you push kiddo around so they can feel in control or pull it like a wagon. They're usually $79.99 but are also on sale for $39.97 until Sunday.
For just under $40 again is the Step 2 Sit and Play Picnic Table with Umbrella. Great for the warmer months, it seats up to 4.
There are lots more deals! I find it easier to shop the Toys R Us digital flyer rather than going straight to the Specials section because stuff is usually missing; you can click whatever you're interested in on the flyer and it takes you to the product page.
You'll receive free shipping or a $10 credit on orders of $49 or more (depending upon your purchase) or buy online and pick up in-store!
(Expires: 20th March 2016)