Minecraft Creeper Anatomy Vinyl Was $55 | Now $20 @ Toys R Us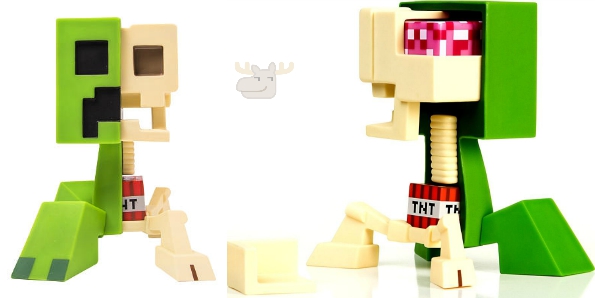 Minecraft toys are BIG right now because Minecraft has really hit a chord with children and adults alike. I found this sweet Minecraft - Creeper Anatomy Vinyl toy on sale from $54.99 down to just $19.98 at Toys R Us Canada.
The toy is very cool. Essentially you get to assemble the insides of a Minecraft Creeper. There are seven pieces for easy assembly and play. With these multiple pieces you can combine and dissect your Creeper endlessly. The figure stands 8" tall and is geared towards children ages six to 11 years though Toys R Us recommends eight to 11 years. However, your child's development level will determine if this toy is appropriate.
Older children are even getting in on the action. As one reviewer said
Great product to play with or to have as a great figure to show your love of minecraft. This was purchased for a 13 year old who is a huge fan and loved it.
Another reviewer thought this toy was a great basic for teaching anatomy:
This is such a cool toy! I purchased one for my son and one for his friends birthday. It teaches basic anatomy of any living thing. Bones, brain etc. I really like how cool it looks and how easy it is to put together.
I also think this is a wicked cool toy even though I have never played Minecraft. I really like toys that involve assembling - especcialy when it deals with anatomy. This toy is both great to play with and then it makes a great display piece when your child no longer wants to play with it. At this price, you just cannot go wrong.
There are 104 votes to give this cool Minecraft toy a solid 4/5 rating on Toys R Us. This is a toy exclusive to Toys R Us Canada but I did find it being resold at Amazon.ca for $39.68 + $12.94 shipping. Most resellers have this toy for at least double what you will pay directly from Toys R Us.
Receive free shipping on orders of $49 or free shipping to store (if available in your area). Other than that, shipping will be calculated at checkout (it was $10.45 for shipping to the Island).
(Expiry: Unknown)